Chinnor Refurbishment
Our extensive programme of refurbishment here at The Sanderum Centre, Chinnor, includes the Ground Floor, First Floor and Reception area, incorporating a BRAND NEW breakout area to give clients a dedicated space to get away from their desks and to increase the opportunities for community and collaboration amongst clients.
The rest of the building has also being extensively modernised and updated, including our high-specification meeting room, MR1.
WHAT OFFICE SUITES ARE AVAILABLE?
Ground Floor – Walton Suite & Lacemaker Suite
Two suites are available on the ground floor, including the brand new 6 workstation show suite – Walton (see below) – and also Lacemaker, a 2+ workstation office, directly off reception and opposite MR1 Meeting Room (see photos below)
First Floor
Located on the first floor, we have 3 smaller offices available – details to follow. Please contact us to register your interest.
Our show suite, Walton – named after our first ever client when we opened as a Business Centre back in Nov 1999 – is our flagship, top of the range, office space with beautiful artwork, stunning decorative pieces and modern, design-led lighting all specifically chosen to create the perfect working environment and a huge 'WOW' factor for clients, employees and visitors alike.
This incredible space has:
6 work stations, 2 of which are electric sit/stand desks
6 pedestals
6 operator chairs
Coffee table with soft seating
Privacy screens
In addition to Walton, the full programme of refurbishments at our Chinnor centre will provide a range of NEW suites to cater for all sizes and budgets, with truly all-inclusive pricing that avoids all of the costs and headaches of traditional commercial leases with their lengthy lease ties and fluctuating energy and business rate rises.
In the current climate, it's no wonder businesses and professionals are turning to serviced, flexible space for their office needs, and that's why we're so passionate about building and supporting a vibrant community of like-minded businesses.
If you're interested in making one of our offices the brand new home for your business, give us a call or pop in to view.
2+ person office, plus meeting area
Ground Floor office, located directly off reception and opposite MR1 meeting room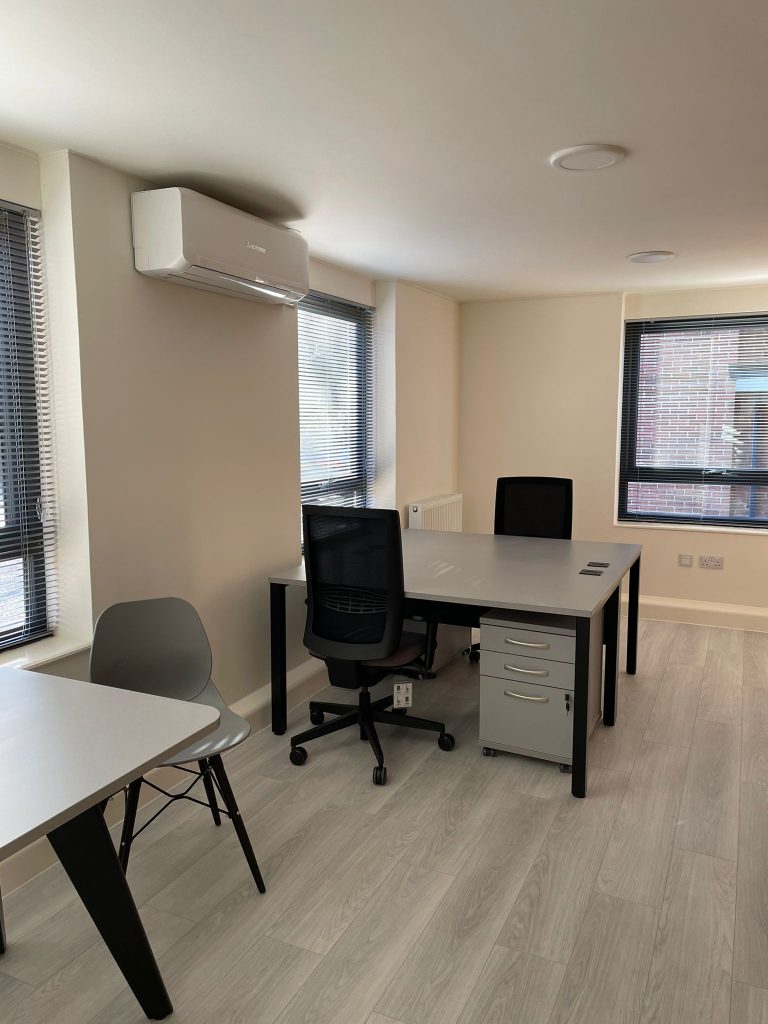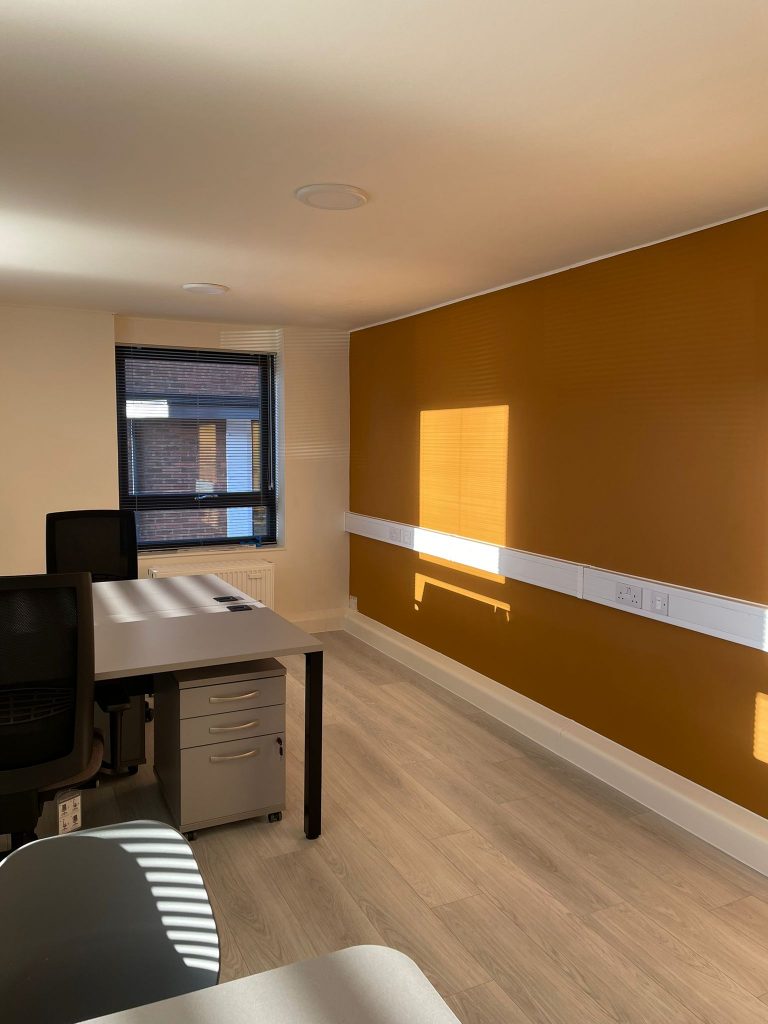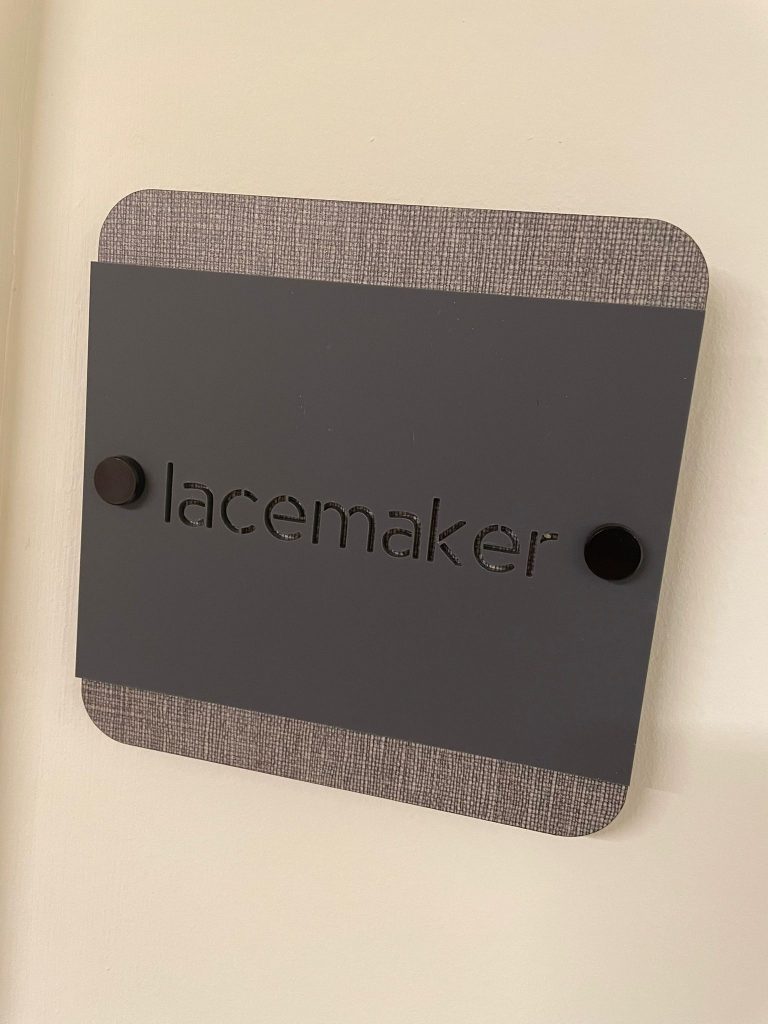 Our team – Caroline, Katie, Sally, Nicola, Dawn and Dee – would love to tell you all about the spaces available and how The Sanderum Centre and OX9 Thame can help you. Come and say hello!
Find Us
The Sanderum Centre: Sanderum House, Oakley Road, Chinnor, Oxfordshire, OX39 4TW and 30A and 30B Upper High Street, Thame, Oxfordshire, OX9 3EX
OX9: 13 Upper High Street, Thame, Oxfordshire, OX9 3ER
Call Us
Chinnor:
01844 353969
Thame:
01844 211080
OX9 Thame:
01844 211060
ABOUT CHINNOR
Chinnor and its surrounding hamlets are part of the ancient chain of villages following the spring line at the foot of the Chiltern escarpment, right on the edge of the Chiltern Hills. The surrounding countryside is an Area of Outstanding Natural Beauty, home to infamous Red Kites, and with many wonderful walks and numerous bridle tracks to explore.
Chinnor's main attractions are its twelfth-century Saint Andrews Church, a steam and vintage diesel heritage railway line and the restored Chinnor Windmill. There are three pubs in the village and a plethora of nearby country pubs – most notably The Sir Charles Napier, a Michelin Starred restaurant with an exquisite seasonal menu and stunning gardens to be explored, while an impressive selection of independent eateries can be sampled in nearby Princess Risborough, High Wycombe and Thame.
With a population of over 7,000, the village centre is well served with two supermarkets, cafes, takeaways and Indian restaurants. For education, the village has two primary schools, pre-school, nursery schools and nearby Lord William's popular comprehensive school.
Chinnor lies about four miles south of Thame and is within a 30-40 minute drive of Oxford, Aylesbury and High Wycombe and just 4 miles away from junction 6 of the M40 motorway providing easy access to the North and South and Princes Risborough station with fast regular rail links to both Marylebone and Birmingham.